Process
Primary Research
We applied five research methods in our primary research:Interview, expert interview, contextual inquiry, shadowing and an online survey. We conducted 30 people in both survey and interviews, and we found out three main pain-points from the residents in Pittsburgh. The pain-points are parking spots in downtown is hard to find, parking fare is expensive, and kiosk interface is confusing for elders. For applying both contextual inquiries and shadowing methods to parking issues, we observed how residents dealt with the problems and how frustrated they feel during the process.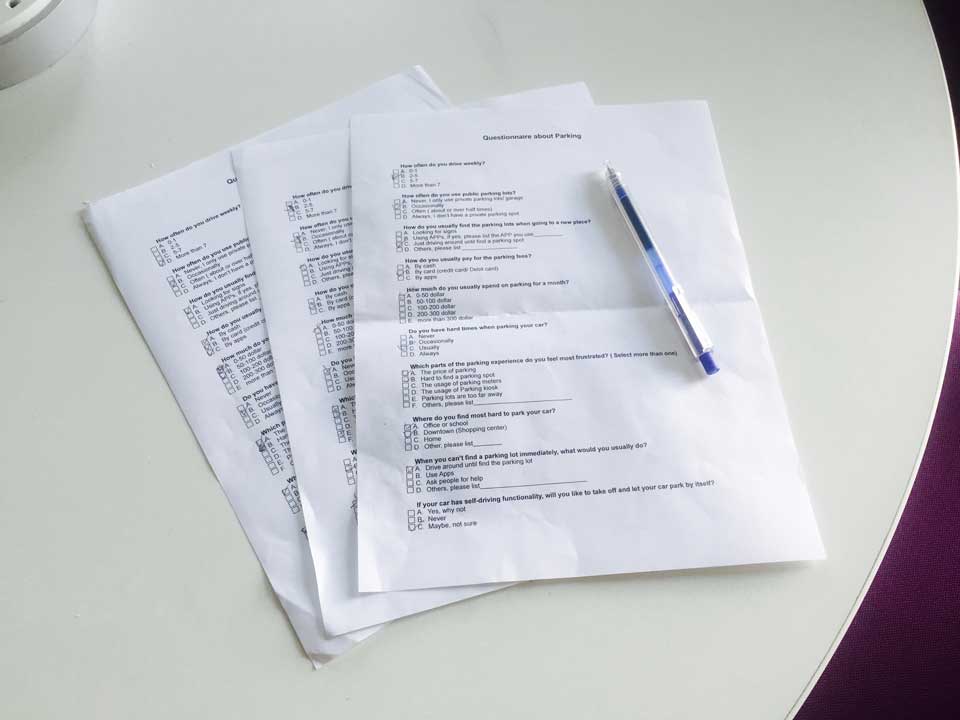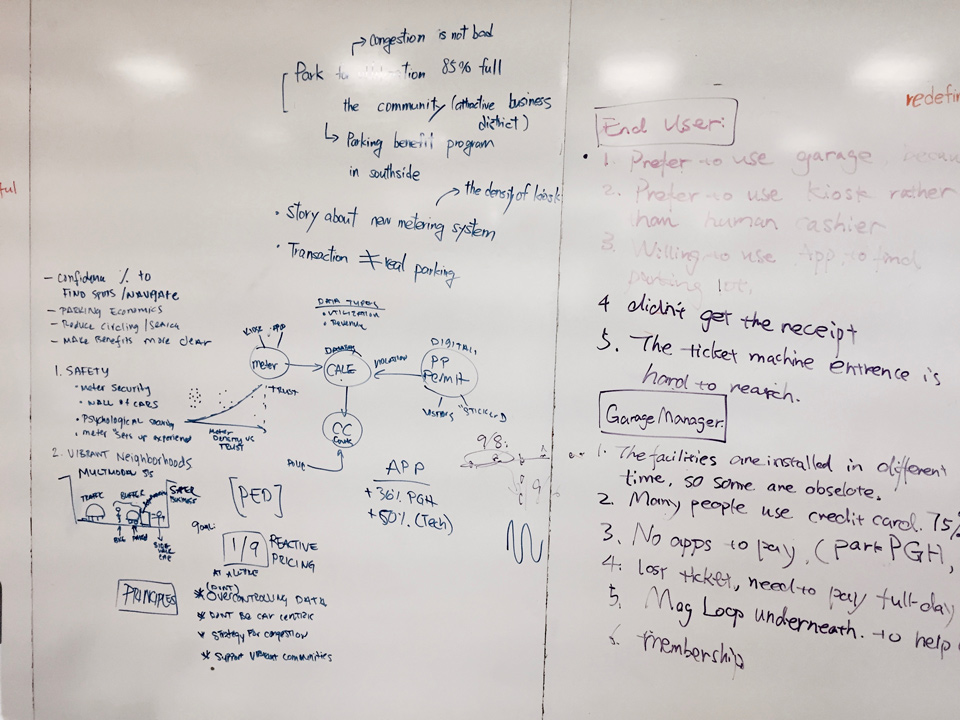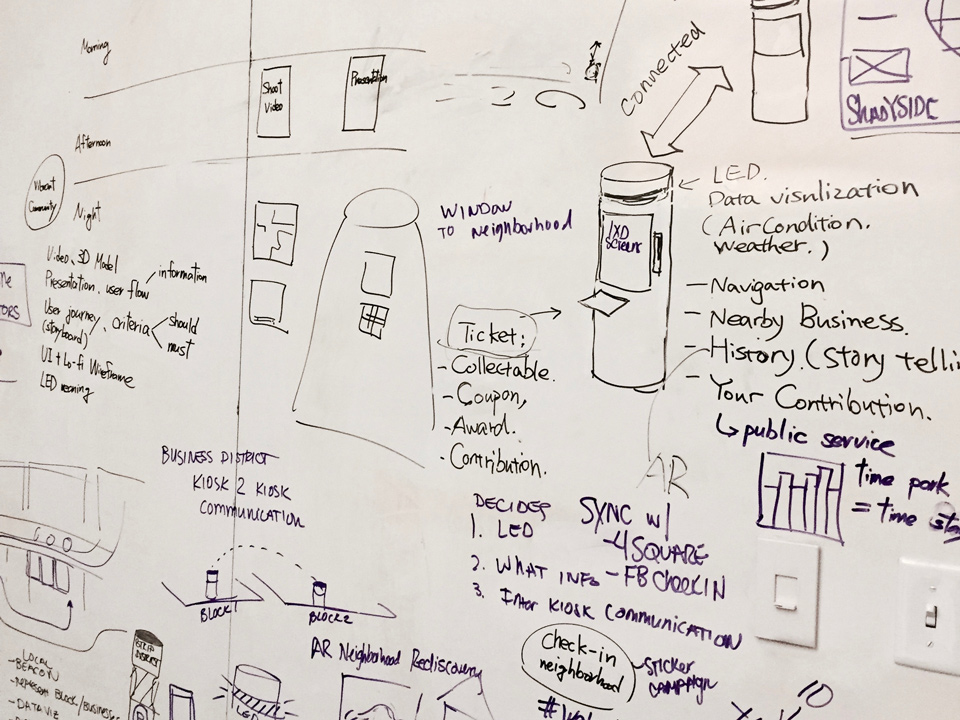 Interviews
As we were looking into some of the pain-points that we conducted in our interviews, we decided to move on for expert interviews. We talk to John Fournier, director at Parking & Metering in the City of Pittsburgh. He mentioned that parking fees are important for the city government since they are one of the main revenues for the city to maintain utilization and public service. But people are unware of the impact. He also said that street parking creates a safe barrier for pedestrians from traffic.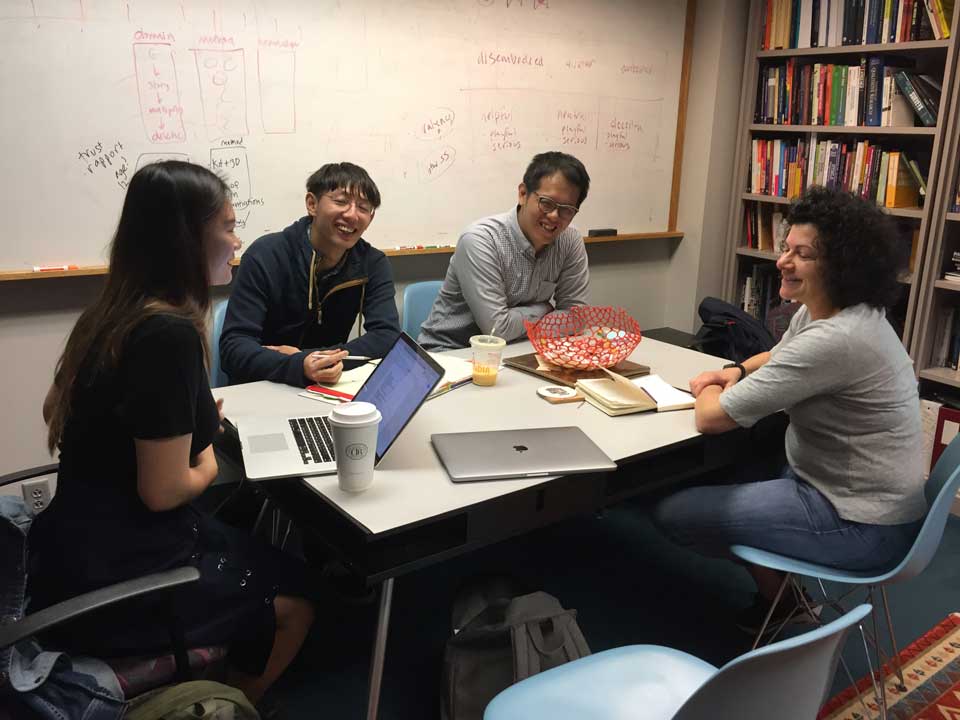 Jodi Forlizzi / Professor at HCI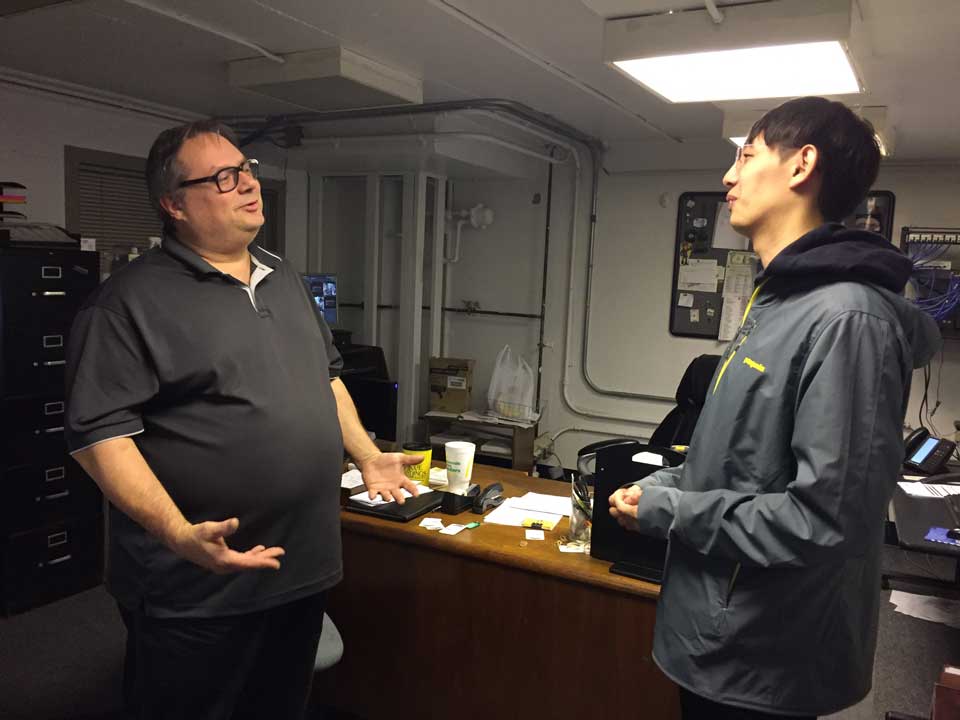 Operations Manager / Mellon Square Garage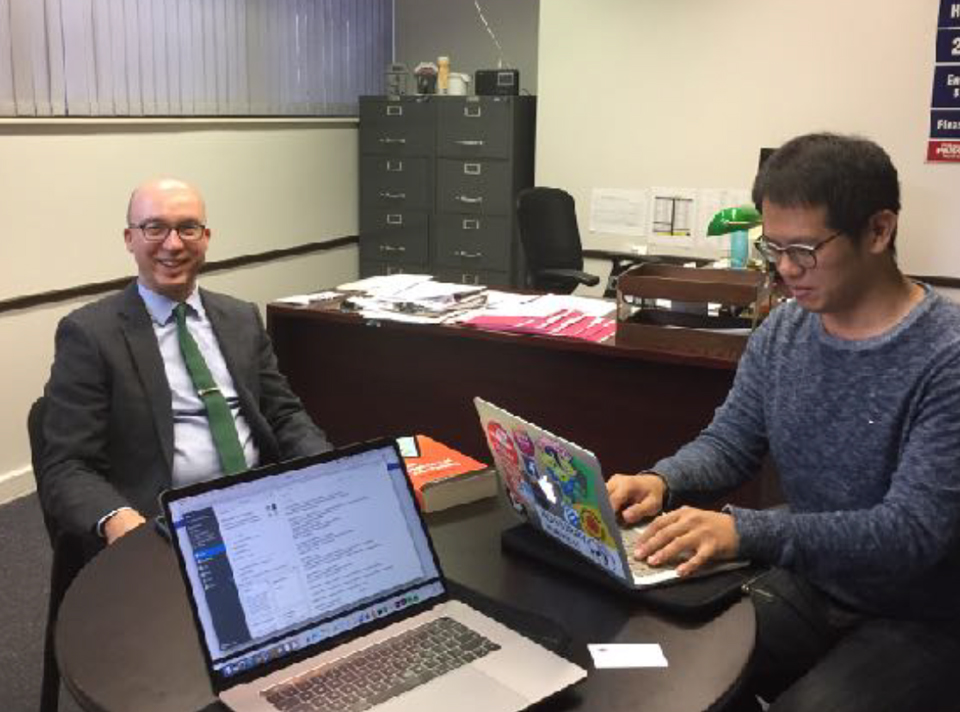 John Fournier / Director at Parking & Metering City of Pittsburgh
Territory Map
As we identified the problem that we wanted to address, we narrowed down to a group of stakeholders that will fit our concepts. We analyzed the directed and undirected stakeholders' pain-points and connected these dots together. We found that our interests land on local residents who drive and shop in the community.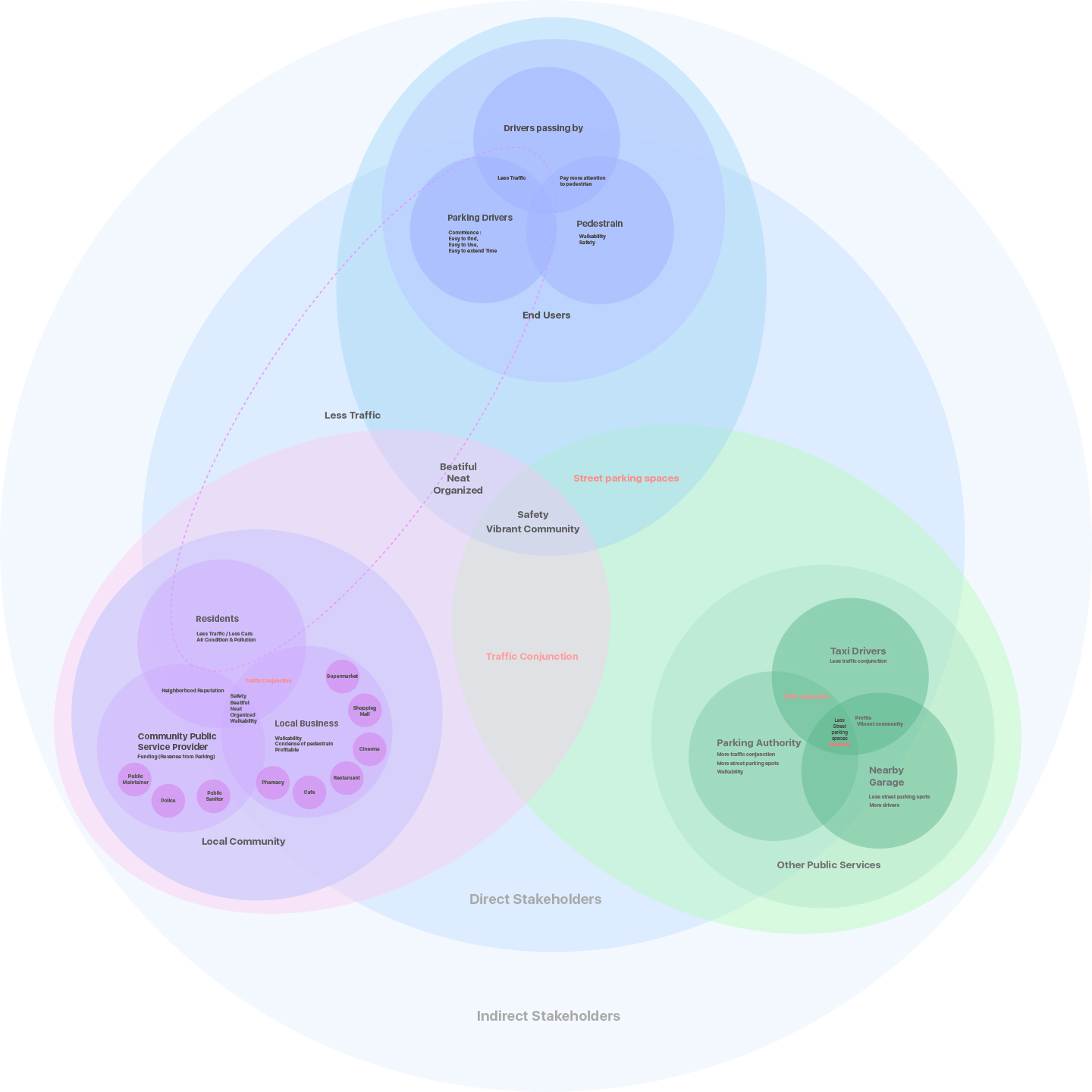 User Journey
We also got insights on our user journey map and the persona we created. Our persona is Joe, a 28 years-old accountant living in the suburbs in Pittsburgh area. He needs to commute to Downtown Pittsburgh to work every day. He stressed about find parking spots on the street and anxious about getting tickets for not extending time. We analyzed the pain-points in relation to his key moments and how these factors affect his stress level during the process. From there, we found opportunities to design for interventions for these pain-points. It's essential for us to understand an emotional journey for the users to find opportunities in design.

Design Critera
Design Must
Embed parking into the local business ecosystem
Create participatory validation process for parkers/patrons of businesses
Streamline user experience for parking payments
Provide accessibility to different users including non-smartphone users and disability
Design Should
Provide visualization to understand contributions
Go beyond parking by providing other services (pay tickets, emergency, traffic information, call taxi, …)
Characterize local neighborhood block interrelationships
________
Journey Overview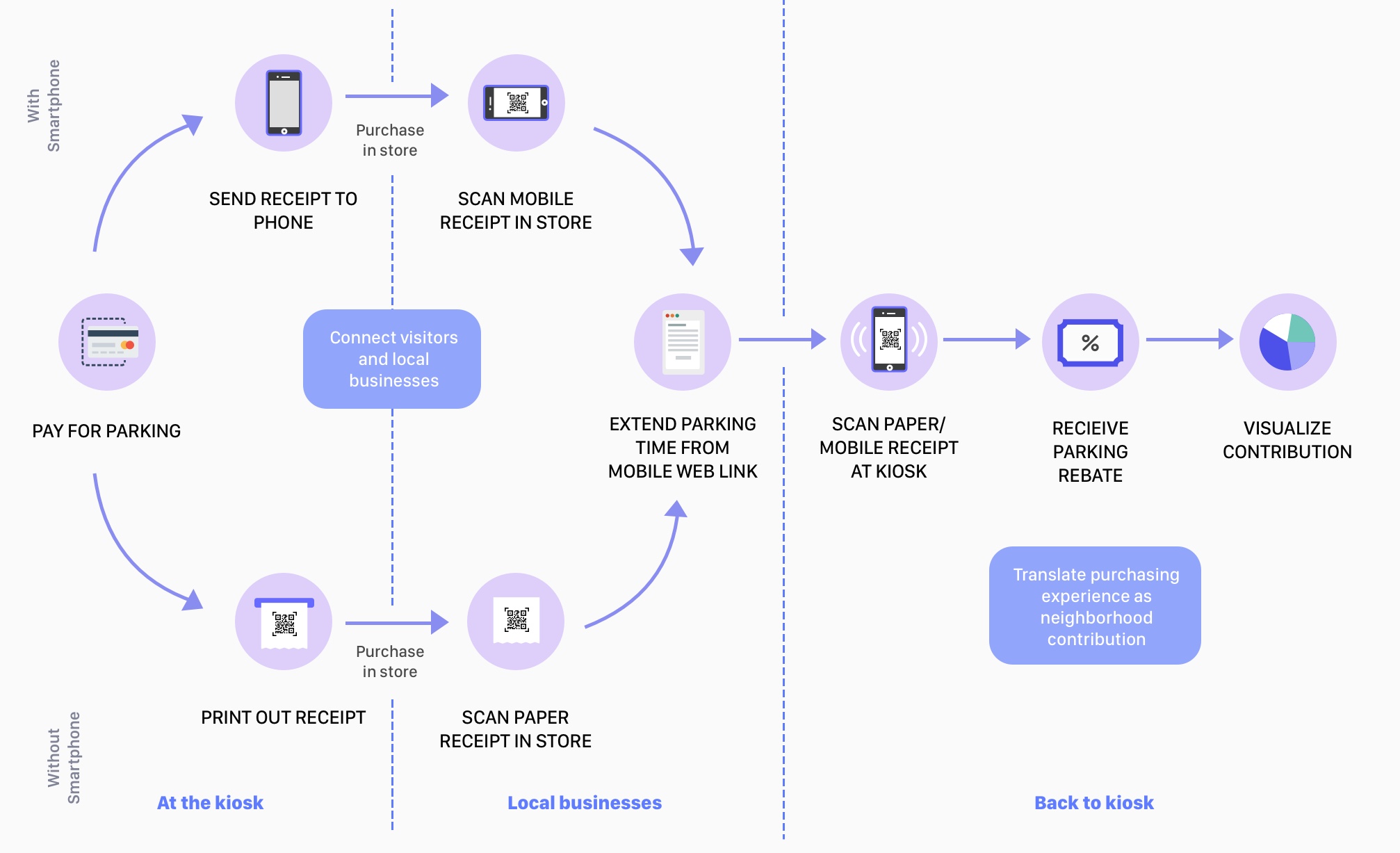 Design Process
Wireframes
Since we were designing for the future look of the kiosk and how the system interconnected with the local businesses and user contributions. Users will see a menu for five options (pay to park, explore the neighborhoods, find my car, validate my ticket and real-time traffic). The kiosk system also syncs with the mobile web version so users could extend parking time without downloading an app. We want to design an intuitive and smooth flow that would upgrade the current parking system in Pittsburgh. By integrating QR code to collect for rebating parking fees and visualization of contribution for public service, we encourage citizens to participate in making their community more vibrant in the future.
User Flow
The user, a driver, in this context, should quickly select parking time and go through the payment. Seamlessly send the receipt on the mobile phone and effortlessly extend time on the mobile without walking back to the parking spot. Also, by scanning QR code while shopping in the local businesses, will not only get discount from parking fee but also help the businesses to grow in the district. Lastly, by rebating user's parking fee, the user will visualize his contribution to the public service in the community. The interface of the parking kiosk and mobile web version have to be user-friendly and easy to understand so that the user will have a stress-free time when he is visiting the business district.